As summer slips into cooler autumn, the weather has many of us dusting off our hiking boots and heading for the hills.
The great outdoors in Northwest Arkansas calls our name with its fresh air and beautiful trails, rivers, and vistas accessible only by foot.
One of our patients stepped through our front door for a retainer check on a beautiful fall day last week with a smile far brighter than when we removed her braces seven months ago. After an hour of listening to her riveting tales, we learned that as much as she loves hiking in the Ozarks, it's the Pacific Crest Trail (PCT) that took her on the epic journey of a lifetime this summer and gave her such a spirited smile (well, that and some awesome orthodontics, of course!).
At 57, Vivian may not be our youngest patient, but she's about as vivacious as they come. She spent nearly five months tackling much of the treacherous trail that stretches from the U.S. border with Mexico all the way to the boundary between Canada and the U.S. She arrived at mile one on April 8th and climbed mountains, crossed deserts, trudged through the snow, slept under the stars, and survived the summer heat one step at a time until August 28th, when she took a flight back to Fayetteville to attend the birth of her grandchild.
While she adjusts back to life in civilization, Vivan agreed to share some of her story with us.
What inspired you to go on this adventure?
I wanted to do something momentous that's outside of my comfort zone and to get away with God, free from distractions.
Did you accomplish your goal?
Yes, it was a wonderful experience. Whenever I was afraid or without confidence or food, God always gave it to me. His presence was so profound that I never felt alone. My peace and self-confidence are much stronger, and it's changed my whole view on life. I met some of the nicest people too.
Tell me about the people you met.
They were from all over the world: Canada, Japan, Germany, etc., and they were all so very positive and encouraging. I never felt afraid of them. We all had the shared experience of the trail, and we could process the joys and challenges of the journey together. All pretenses were gone; everyone was so real and non-defensive.
Everyone goes at their own pace. I couldn't keep up with the young kids; I was often the last hiker to reach the next camp at night, but that didn't bother me. There is a quote that says, "Hike your own hike." We would often meet up at the campsites together at the end of the day anyway. They would get there first.
The trail angels along the way were truly a total godsend. Folks that want to encourage and bless the hikers would set up a station along the trail and offer drinks, hot meals, and even couches sometimes. Others live near the trail and open up their property for hikers to camp out. They were all truly such a blessing.
How did you prepare for the trek?
I regularly walked Lake Fayetteville. I prepared packages with dehydrated food and supplies that my daughter would periodically mail to designated drop locations (called hiker havens) along the trail.
What were some of the challenges along the way?
The desert section was possibly the worst. It was hard, scary, and monotonous. The fear of running out of water was real. I carried around an SOS GPS device to send my family my location every night and let them know I was ok. The SOS button was there for dire emergencies and would send in a search and rescue helicopter. I nearly used it once - I thought I was going to die.
Tell me about that frightening moment.
I was walking down a snowy mountain pass, which most people just slid down, but the descent was so steep and super long, I was too afraid to slide. As I made my way down, I slipped into several feet of snow and struggled to get myself out. It felt like I was swimming through the snow but getting nowhere.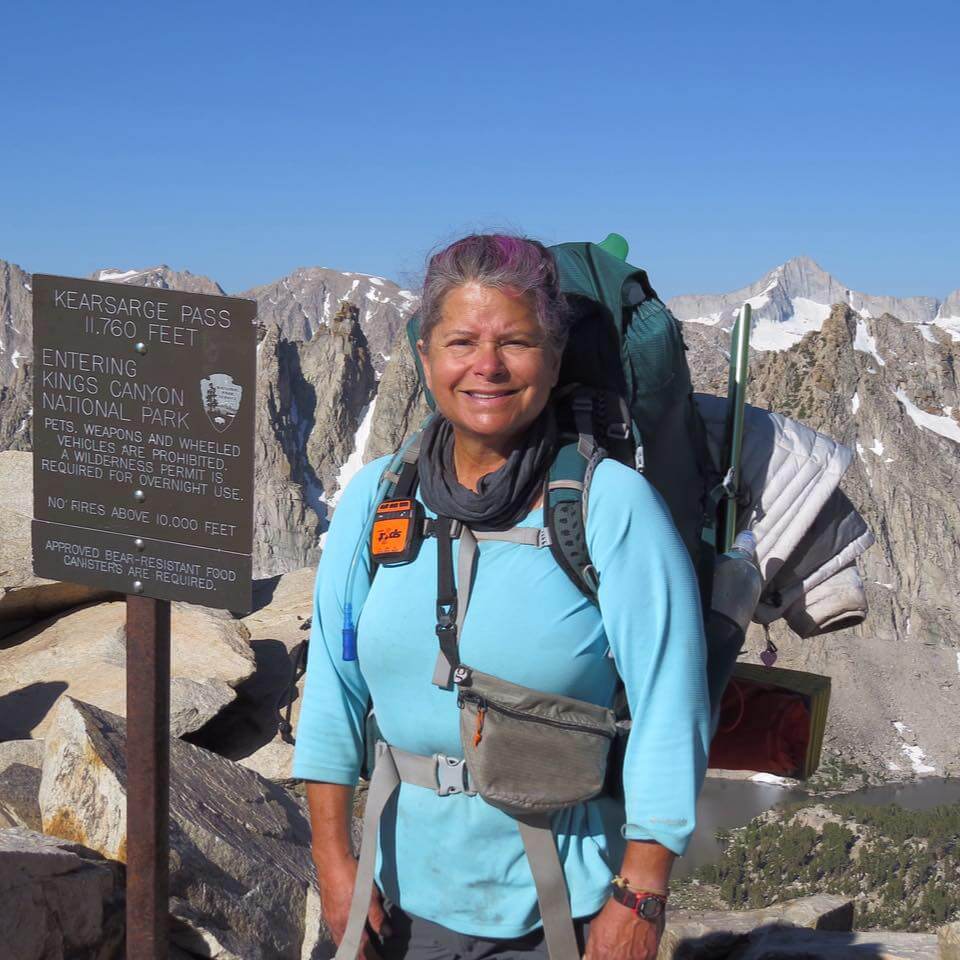 How did you get out?
Well, I took a deep breath and thought and prayed. Eventually, I made my way over to some boulders, scrambled across those instead of the snowy path, and managed to get through. It was very challenging, but now it's empowering to think of what all I've gotten through and accomplished. Now I'm ready for the next challenge that life brings.
Would you recommend hiking the PCT to others?

Absolutely.  You don't have to hike the whole thing. If you do want to make it to a 500-mile mark, though, you will need to allow a minimum of two months to accomplish it.
There are so many positive changes in your attitude and body after the experience, and there is just so much beauty along the way. Every day was a new adventure. Everyone thinks the ocean is the beautiful part of the West, but it's inland -  the mountains and rivers, the birds and mule deer that will take your breath away.
I would recommend taking someone with you. It wasn't a lonely experience because of all the other hikers you meet, and God's presence was so thick, but it's nice to have someone take pictures of you and process the journey together.
What did your diet consist of?
Dehydrated food. I vacuum-sealed meats and fruits before I left and packed beans, rice, tortillas, Ramen noodles, Kind bars, Payday candy bars, peanut butter and jelly, instant mashed potatoes, cheese, and Cholula hot sauce to make it all palatable.
When we would visit a town, we devoured salads, pizzas, and burgers like they were going out of style. It's amazing how much McDonald's you can pack down when you've been living off of hiker food for so long.
One hiker consumed eight sandwiches in one sitting at McDonald's, and he was tiny!
What have you learned from this whole experience?
We have created a way of living that's not real. On the trip, life was boiled down to an essence. It was a simple, beautiful existence. I want to live deliberately.
What are your next steps?
I hope to hike more of the trail again, perhaps next summer. And I am looking to start a new career; take on something completely different that I've never done before. We'll see!
Thanks, Vivian, for sharing your motivating story with us. It's amazing what you've accomplished, and your perseverance to press on after snowstorms and hard desert days is inspirational. Also, way to go keeping track of your retainers the whole time - that may just have been your biggest feat!
If any of our other patients are interested in learning more about the PCT after Vivian's riveting tales, you can check out the trail website www.pcta.org and go back and read her Facebook posts from the trip @Vivianshike.
"I went to the woods because I wished to live deliberately, to front only the essential facts of life, and see if I could not learn what it had to teach, and not, when I came to die, discover that I had not lived..." ― Henry David Thoreau.